OUR HISTORY
The Philippine Cooperative Center (PCC), the convener of the largest gathering of cooperatives every 2 years since 2004, the National Cooperative Summit, was organized in 1995 as a body that coordinates national cooperative networks in the country. The mission of the PCC is to serve as a unifying center that will strive for excellence and competitiveness to create partnerships, and ensure the accountability of the cooperative movement. The PCC came about due to an avowed desire of leaders and advocates to achieve a long-lasting effective presence in the cooperative sector, to cope up with, adapt to rapid changes in the global as well as national scenes. The emerging global economy and openness of the national government to forge a meaningful partnership with cooperatives provided the impetus for the advent of the PCC.
After a series of discussions and fruitful organization-building processes that started in 1995, the PCC was formally registered as a cooperative on March 10, 1997 that coincided with the Cooperative Day celebration.
During its first few years, the PCC focused on establishing a physical center that would serve as a venue for undertakings among cooperatives and as a forum for the discussion of various concerns affecting the movement. Overtime, the PCC operations evolved toward more collaboration efforts among member-networks aimed at strengthening the cooperative sector in the country.
PCC CHAIRPERSONS 1997 – PRESENT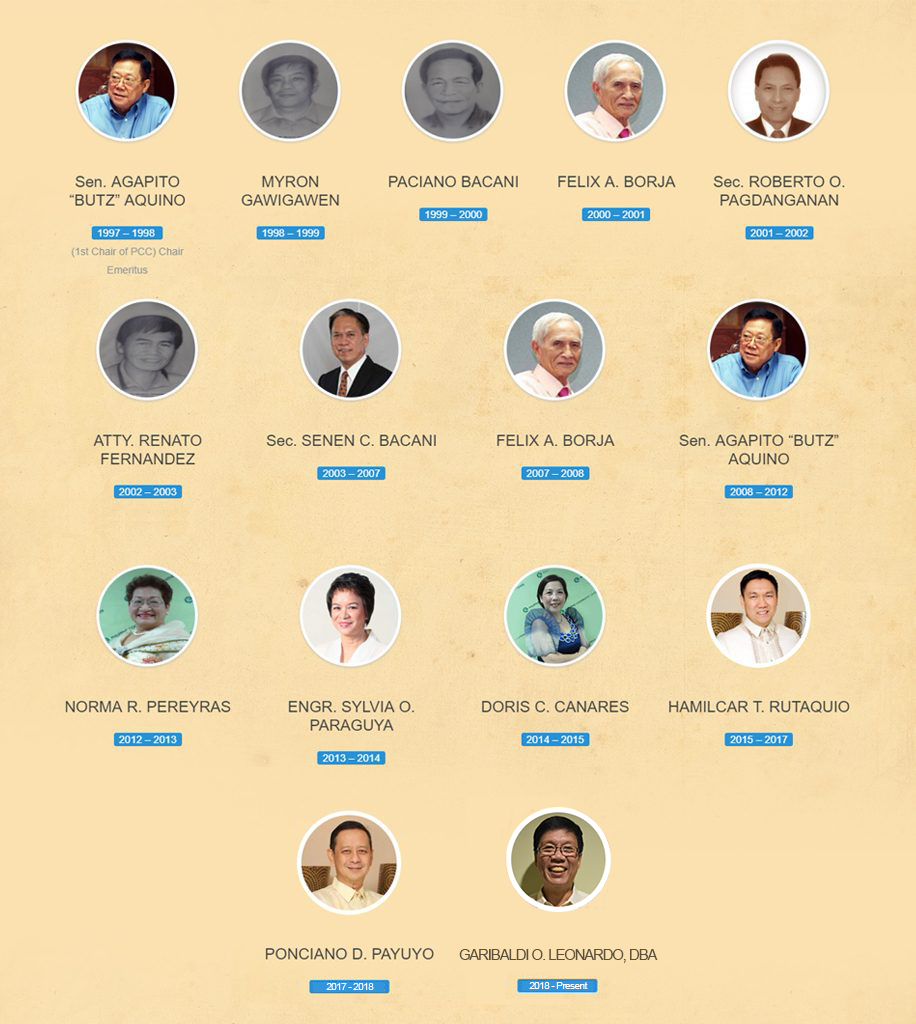 COOPERATORS
Cooperative Education Center
Cooperative Foundation Philippines, Inc.
Cooperative Insurance System of the Philippines
Cooperative Union of the Philippines
Federation of Free Farmers Cooperatives, Inc
Katipunan ng mga Kooperatibang Pansasakyan ng Pilipinas Inc.
National Market Vendors Confederation of Cooperatives
National Confederation of Cooperatives
National Cooperative Movement
NUWHRAIN Development Cooperative
Philippine Federation of Credit Cooperatives, Inc.
Philippine Federation of Women in Cooperatives
PHILAC Service Cooperative
United Methodist Church Multi-purpose Cooperative, Inc
U.P Employees Housing Cooperative
Valenzuela Development Cooperative
Visayas Cooperative Development Center
Bicol Cooperative Development Center
Northern Luzon Federation of Cooperatives and Development Center
MASS-SPECC Cooperative Development Center
Cagayan Valley Confederation of Cooperatives
Coop-Life Mutual Benefit Services Association
Tagalog Cooperative Development Center
Lingap Credit Cooperative
Project 4 Development Cooperative
Philippine Army Finance Center Integrated Producers Cooperative
Paco-Soriano-Pandacan Development Cooperative
LIMCOMA Multi-Purpose Cooperative
Philippine Rural Electric Cooperatives Association
Novaliches Development Cooperative, Inc.